Redefining Epidermal Leveling
Epidermal Leveling, also known as Dermaplaning and Dermablading, is a highly specialized treatment designed precisely for removing the top layer of dead skin cells and the fine facial hair that is commonly known as "peach fuzz."
Dermaplaning can rapidly rejuvenate the skin induce new cell growth. This exfoliation process gives the skin a smooth, polished, and a youthful appearance. It is also very effective in reducing the appearance of wrinkles, fine line, and acne scars, as well as allowing for better penetration and absorption of both pharmaceutical and cosmeceutical products and has been used as a "prep" to enhance the effectiveness of other skincare treatment.
Epidermal Leveling/Dermaplaning is an extremely safe treatment and is performed by our certified aestheticians at Amy's Skincare & Med Spa. This treatment is non-invasive, quick and no downtime.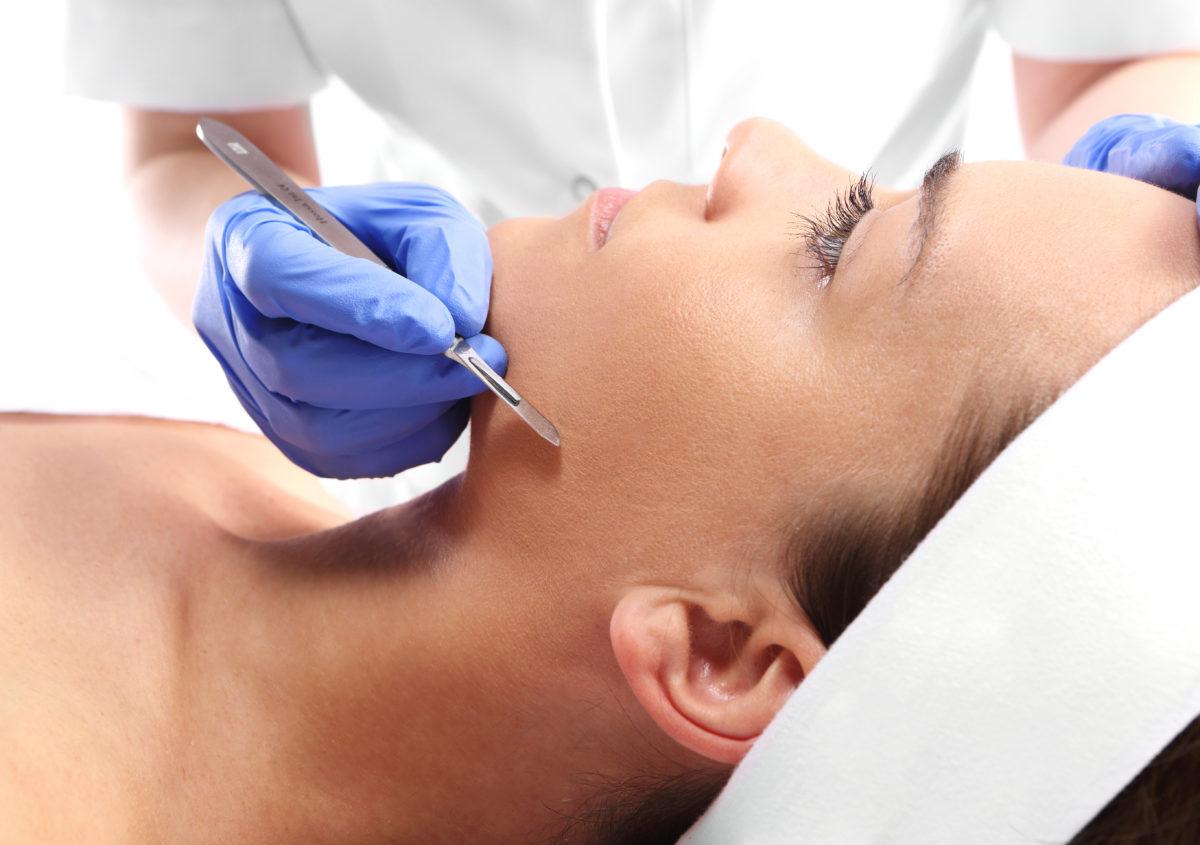 Frequently Asked Questions
What is Epidermal Leveling?
Epidermal Leveling removes the top layer of the skin, improving blemishes caused by aging, acne scars, darkened pigmentation and more. As the skin's outer layer is removed during this process, the fine hairs on the face known as "peach fuzz" are also removed. This is a non invasive treatment compare to laser resurfacing such as Fraxel Laser and harsh chemical peels.
How does Epidermal Leveling work?
This non-invasive procedure works by exfoliating the top layer of the skin to removes dead skin cells, eliminates fine facial hairs and stimulates new cell growth, giving you a smoother, youthful appearance.
What areas of the body can it treat?
Epidermal Leveling is appropriate for the treatment of the facial skin.
Am I a right candidate for Epidermal Leveling?
Epidermal Leveling is appropriate for both male and female facial skin, regardless of races and skin tones. This treatment is suitable for pregnant women and nursing mothers since no chemicals are involved. Individuals with moderate to severe acne may want to consider our acne treatment instead of epidermal leveling since this procedure removes the vellous hairs. Removing the vellous hairs may cause oil to be trapped below the skin and worsen acne breakout.
How is Epidermal Leveling performed?
A specialized one-time-use, disposable device is used to exfoliate the skin's top layers through a method of "controlled scraping." This procedure is safely performed by our aestheticians using a sterile blade and handles made exclusively for Epidermal Leveling/Dermaplaning. The process is to be performed at a 45-degree angle, sanding down the skin's top layer, just like shaving.
Is there any downtime or recovery?
Although redness, minor discomfort or burning sensations might occur during recovery. There is no downtime for this procedure. You can immediately return to back normal activities after treatment.
What kind of results can I be expected?
Your skin will feel smooth and energized, and your skin tone will be evenly balanced. Lines and wrinkles will appear much less noticeable. Acne scars may also diminish. This procedure may also undo skin damages caused by UV (Ultraviolet) Radiation.
What is the cost of Epidermal Leveling?
Since each individual is different, the cost of Epidermal Leveling varies but typically is less compared to other similar procedures. If you are interested in having this treatment performed by our aestheticians, call us at 281-589-1888 and schedule a free consultation today.